• Chakra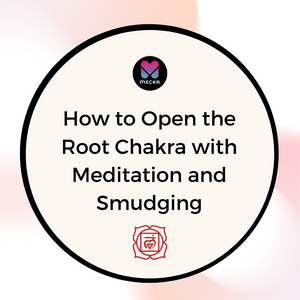 How to Open the Root Chakra with Meditation and Smudging.
The root chakra, also known as Muladhara, is the foundation of our energy system. Located at the base of the spine, it is associated with our sense of stability, security, and connection to the physical world. When the root chakra is balanced and open, we feel grounded, centered, and able to navigate life's challenges with confidence. However, if the energy in this chakra becomes blocked or imbalanced, we may experience feelings of insecurity, fear, or instability. To help open and balance the root chakra, incorporating meditation techniques along with the practice of smudging can be particularly beneficial. In this blog post, we will explore how to open the root chakra through meditation and the added benefits of smudging.
---
Moving into a new home is an exciting milestone in life. However, it's essential to create a space that reflects your energy and intentions. One powerful way to accomplish this is by cleansing your new home with sage. Sage has been used for centuries in various cultures to clear negative energy, promote positivity, and establish a harmonious environment. In this blog post, we will guide you through the process of cleansing your new home and infusing it with your own energy using sage.
---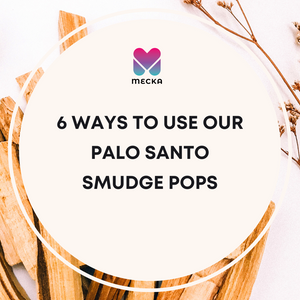 Our Palo Santo Smudge Pops are sustainably harvested and feature sweet notes of pine, mint, and lemon. Each stick is finished with a blend of beeswax and fresh herbs, with three options to choose from - white sage, sunflower, or rose petals.
Here are some of the benefits of using Palo Santo Smudge Pops, and how to incorporate them into your daily life.
---
• Cleansing Herbs • crystal grids • Crystals
Rose quartz and amethyst are two of the most well-known and widely used crystals in the world of crystal healing. Both have unique properties that make them valuable tools for promoting emotional and spiritual healing, and when used in combination, their energies can work together to enhance their individual benefits.
---
• Incense
6 Reasons Why You Should Burn Incense Burning incense has been a practice for centuries in many cultures around the world. Whether it is for religious or spiritual purposes, or simply to create a calming and peaceful environment, incense has a multitude of benefits. Here are six reasons why you should consider burning incense: Promotes relaxation and stress relief: Certain scents, such as lavender, chamomile, and sandalwood, have been proven to reduce stress and anxiety levels. Burning incense can help to create a calm and relaxing atmosphere, which can be beneficial for meditation and mindfulness practices. Enhances focus and concentration: Burning...